Shri Guru Granth Sahib Ji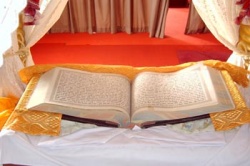 Shri Guru Granth Sahib Ji is the Holy Book of Sikhism. It has 1430 pages and contains the actual words spoken by the Sikh Gurus and various other Saints from other religions including Hinduism, Islam, the Kabirpanthi religion and the Ravidasi religion.
The Adi Granth is often used to refer to the Guru Granth Sahib. The Adi Granth is correctly only the portion of the Granth which Shri Guru Arjan Dev Ji compiled in 1604. This term is often used interchangeably so it is important to note the context within which it is used.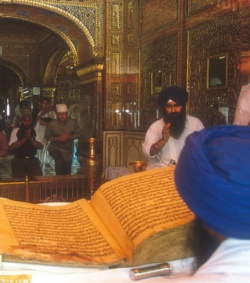 Shri Guru Granth Sahib Ji provides unique and unequalled guidance and advice to the whole of the human race. It is the torch that will lead humanity out of Kaljug, (the dark era) to a life in peace, tranquillity and spiritual enlightenment for all the nations of the World. The main message can be summarized as:
All Peoples of the World are Equal.
Women as Equal.
One God for All.
Speak and Live Truthfully.
Control the Five Vices.
Live in God's Hukam (Universal Laws).
Meditate on the name of God (Remember God).
Practice Humility, Kindness, Compassion, Love.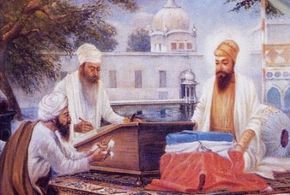 It is believed that the Shri Guru Granth Sahib Ji was made a guru by the last of the living Sikh Masters, Guru Gobind Singh Ji in 1708. Shri Guru Gobind Singh said before his demise that the Sikhs were to treat the Granth as their next Guru.
Transliteration: Sab sikhan kō hukam hai gurū mānyō granth.
English: All Sikhs are commanded to take the Granth as Guru.
Mata Nanaki Foundation is a UK based Charitable Organisation. It is sister organisation Mata Nanaki Foundation Society is a Registered Charity in India. Registration No. 06142573. It was founded by late Mrs. Bibi Balwant Kaur Soor MBE.